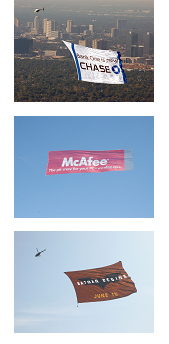 About Us
Aerial Media Services, Inc. (AMS) is the premiere company in the expanding market for aerial advertising. The company assists advertisers and advertising agencies of all sizes in the production, placement, and fulfillment of worldwide aerial advertising campaigns. AMS eliminates the challenges required in carrying out aerial advertising by making the process less complicated, more productive, and streamlined so that advertisers can spend less time worrying and more time on other projects.
The company was founded in 2002, with management's combined experience of 15+ years in broadcast media, sports marketing, and aerial advertising, they are pioneering a more professional and marketing driven service to increase aerial advertising's overall awareness and effectiveness. AMS focuses solely on the advertiser's marketing objectives and has developed a unique approach in delivering such a complete range of aerial advertising services.
Why Use Aerial Media Services?
"One-Source" shopping
Design, creation, and digital production of aerial displays
Handles all logistics and permits
Strategically coordinates multi-market campaigns
Detailed performance verifications
One representative, one point of contact
Unique, uncluttered, noticeable, and underutilized -
Aerial Advertising is a medium that works!